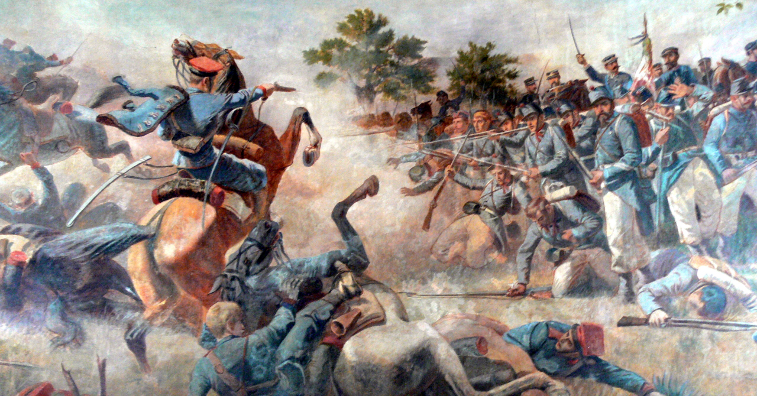 Res Militaria Italian Independence Wars
A downloadable game for Windows, Linux, and Android
Res Militaria is a cross-platform turn-based strategy game.
Inspired by classic chess game and traditional war board game, it proposes a wargame experience in a real historical context keeping low game complexity and time to learn. Try first the tutorial scenario to learn the basics.
It is based on Historia Battles series, has the same turn based mechanic and has been improved with most user requested features, having a more charming and modern user interface. Historia Battles wargame has been fully rewritten using Godot and blender for unit graphic and animations.
The app collects some usage statistics, the user can disable this behaviour in the settings screen.
The reproduced battles are (*):

- 1848 A.D. Custoza Battle
- 1848 A.D. Goito Battle
- 1859 A.D. Magenta Battle
- 1859 A.D. Solferino Battle
- 1860 A.D. Volturno Battle
Game Features:
- Play against AI
- Play hot seat mode
- Play Local Area Network mode
- Animated Sprites \ Military APP-6A standard view
- Save\Load game
- Leaderboard
Rules of the game:
Game victory condition: all enemy units are killed or enemy home location has been conquered.
During the attack the damage is calculated as a diff of attack points (attacker) and defend points (attacked).
Ground cell characteristics could influences attack, defend points and range fire distance (for firing units).
The unit attacked from side or back is damaged considering zero defend points.
The attacked unit can not move in the same turn (it has no move points).
Unit severely wounded causes panic damage to near ones.
Unit that kills other unit increases experience,attack and defend points, and all lost life points are recovered.
Download
Click download now to get access to the following files:
ResMilitaria-ItalianIndependenceWars.apk
95 MB
ResMilitaria-ItalianIndependenceWars_Linux.zip
85 MB
ResMilitaria-ItalianIndependenceWars_Windows.zip
85 MB
Also available on